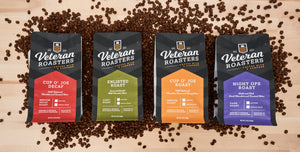 Housing insecurity affects hundred of thousands of veterans in the United States.
Veteran Roasters Coffee was founded in 2017 to help give veterans a place to work and regain their lives after service. With every purchase of Veteran Roasters coffee, you help provide a job opportunity to an at-risk Veteran and provide them a community.
WHY COFFEE?
Veteran Roasters CEO Branden Marty, a former helicopter pilot and Navy veteran and his partners knew that the rapidly growing craft coffee roasting community was the perfect industry to build and grow a vision of providing opportunities for veterans.
Our veteran coffee roasters are trained by some of the best premium coffee roasters in the Chicago area, providing them with a relevant, valuable skill set in an expanding industry. With Veteran Roasters, our team of hardworking veterans earn a living wage and gain access to housing assistance & many other resources.  Most importantly, they are a part of a community that supports and develops them both personally and professionally.